What is Customer Journey?
In simple terms, Customer journey is the process through which a customer is communicated through marketing messages about a product or a service from the first touch point or awareness to purchase.
Different Stages of Customer Journey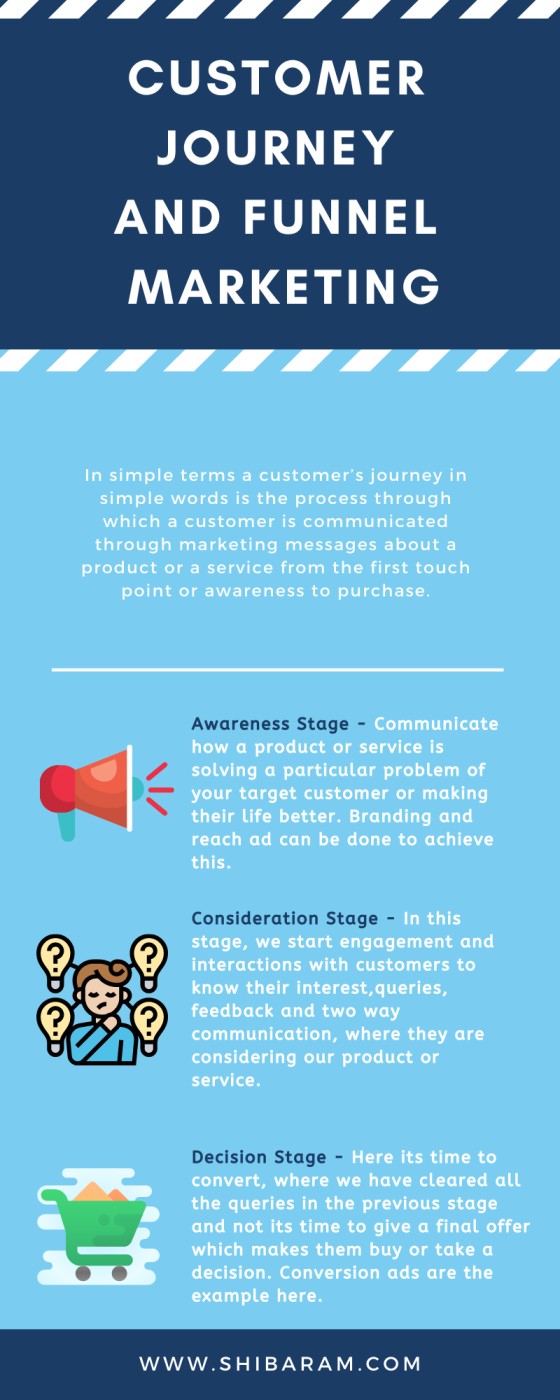 Customer Journey is divided into three stages:
Awareness Stage – Communicate how a product or service is solving a particular problem of your target customer or making their life better. Branding and reach ad can be done to achieve this.
Consideration Stage – In this stage, we start engagement and interactions with customers to know their interest, queries, feedback and two way communication, whether they are considering our product or service. Engagement, Messaging, lead, traffic ads are few examples. We get the customer's reactions here and clarify it.
Decision Stage – Here it's time to convert, where we have cleared all the queries in the previous stage and now it's time to give a final offer which makes them buy or take a decision. Conversion ads are the example here.
As we know, the Awareness stage is the first touch point for any marketing campaign, let's discuss what kind of ads you should do and how to approach your prospects:
1) If your brand is new, you are starting a new digital journey or reaching out a new geography where your customers don't know you.
2) On Facebook, Try Branding Ad first. You can do the reach ads following this. Video Ads works the best here.
3) On Google, Try Video or Display ads for relevant keywords and it will reach the respective audience.
4) Don't be pushy or directly come to selling something; unless you have come up with something great which people are looking forward to buying.
5) Make them feel good, that solves their problem or makes their life easier! There should be a recall factor to your ads. And next time they see your ad, they should click it.
The success of your ads depends on this stage, whether people proceed further in buyer's journey or they drop off. So it's crucial.
Lets see what are the things we should keep in mind for this stage.
1) To Start, Consideration stage is about clearing their doubts, communicating, so content should be accordingly.
2) Engagement – You must keep them engaged and be in their mind, and with each ad they see, their perception about your product or service should be clear.
3) Two Way communication – Engage and communicate, ask questions, or let them ask questions. Build a communication funnel which is two way!
4) Types of ads – Landing Page view ads, Lead Ads, Messaging Ads works best for this stage.
Decision Stage: Climax of the customer journey
If you have done well in the awareness and consideration stage, the conversion stage is easy to achieve.
Make sure you cover these Four things in your conversion stage communication
1) Budget – Give an irresistible offer they can't say no to.
2) Time-bound – Make your offer time bound.
3) Exclusivity – Pitch the offer exclusively to the people who have gone through your funnel, not for everyone.
4) Assurance – Assure after sales support, easy refund/cancellation and they are all yours.
This is my way of explaining funnel! This is what I do with a funnel. And this not only gives me sales, this gives me profit.
F – Filter – Curate and filter your audience at each level
U – Unique – Offer something Unique
N – Need – Create a strong need to buy
N – Nurture – Nurture continuously
E – Engage – Engage them well
L – Limited – Let it be a scarcity Think about it and use it. Your funnel will get more sharp, filtered and curated! And What you get at the end, is pure profit!
Different layers of the funnel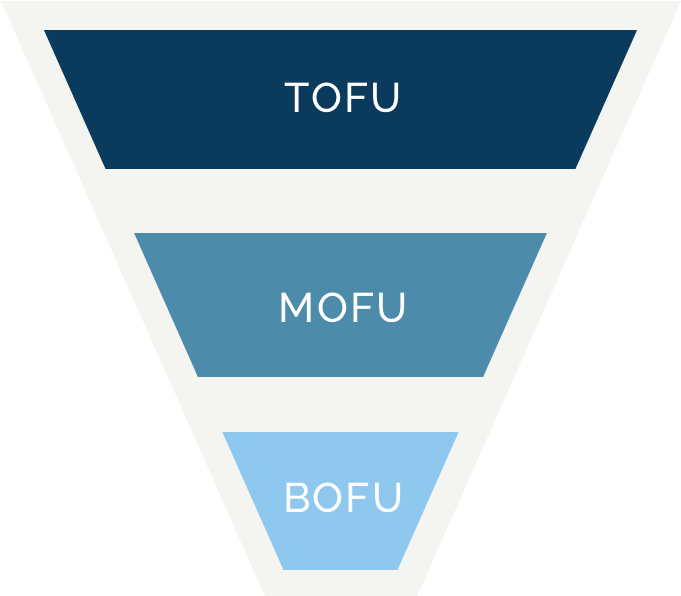 Broad Layers of the funnel are:
TOFU – Top of the funnel – Aware
MOFU – Middle of the Funnel – Curious
BOFU – Bottom of the funnel – Convinced
1) Your target audience who is looking for a solution to their problem e.g. someone looking for a 3 BHK house in budget.
2) Test all possible audience sources across different demography, interest and budget, lifestyle e.g. 3BHK for Newly Married Couple, 3BHK for senior citizens.
3) Address the key problem and solution, use keywords in the ad/creatives.
4) Video format ads works best to grab attention: e.g Virtual Walkthrough or a slideshow.
5) Information needs to be crisp, to the point, don't create confusion e.g. 3BHK flats near Metro.
6) Filter their intent by giving a call to action : e.g. download, take a detailed walk-through etc .
7) TOFU audience need not proceed to the conversion stage, but we can use them in Re-funneling. e.g one might not buy a 3BHK, but you can also pitch them for a 2BHK
MOFU - Middle of the Funnel
Middle of the funnel is all about two things, getting interest and desire. Following are few points to consider
1) Reach out to all the audiences who engaged with you in the TOFU
2) Educate more about the product/service, details, price, features etc so that the customer who was aware now starts getting interest.
3) Pitch an irresistible offer which they can't say no to
4) Engage them to ask questions, download detailed info, fill up a lead form or start communicating.
5) Reach out multiple times and via multiple mediums.
Here, before proceed, we need to understand two basic segmentation, MQL and SQL.
MQL is a marketing qualified lead/prospect/customer, who is fully convinced about your product.
SQL is a sales qualified lead/prospect/customer, who is having a desire to purchase your product.
BOFU - Bottom of the Funnel
1) It's the final push! Target all the people who engaged with you in MOFU
2) Create the urgency to purchase the product/service, show the exclusivity
3) Reward them for purchasing, that last mile discount exclusively for them or push that last minute bonus!
4) BOFU is not just about closing sales, or conversion. But it's also about retention, building a relationship, upsell, repurchase and building loyalty and bringing them to advocacy.
Characteristics of a Profit Funnel
Till now we have discussed what a funnel is, it's different layers, now let's understand what a Profit Funnel is. A Profit Funnel is characterised by:
1) Low or no wastage of leads and prospects
2) Revenue is more than all the expenditures
3) Has multi cycle value
4) Never becomes outdated
5) Becomes better with time
Benefits of a Profit Funnel and the things we should do
1) We get only curated audiences to the funnel, not very broad, neither too small but just good enough to track the conversions.
2) Have ample time to retarget audiences, don't push all the ads at once
3) Segment your Top of the Funnel audiences and remarket accordingly
4) Marketing Ready Leads are to be taken further for sales enablement i.e offers
5) Sales Ready Leads are to be taken further conversion
6) Track the conversion percentage between each layer and try to improvise that
7) Recycle the audiences after a gap and you will churn extra sales , i.e. extra profit.
How to calculate profit in the funnel marketing ?
Lets understand what makes a funnel profitable!
1) Pre Funnel Cost, Production Cost
2) Marketing & Sales Cost
3) After Sales Services
4) Return and Refund
5) Discounts and Freebies
This looks simple, so revenue minus the sum of the expenses is profit! But hold on. If it's a repeat sale, there is an upsell, if it's a recurring sale. We don't just calculate the sales revenue. But we talk about the LTV.
So a LTV – is LifeTime Value is a prediction of the net profit attributed to the entire future relationship with a customer So, here, lets say u spend 5000 to acquire a customer, and he pays 500 in the first cycle of the funnel, and has a lifetime of 36 months. You make 18000 and make a profit of 13000.
So, we can see that just doing lead ads is not enough, you have to build a profitable lead funnel which not only gives you sales but also saves your money and time.